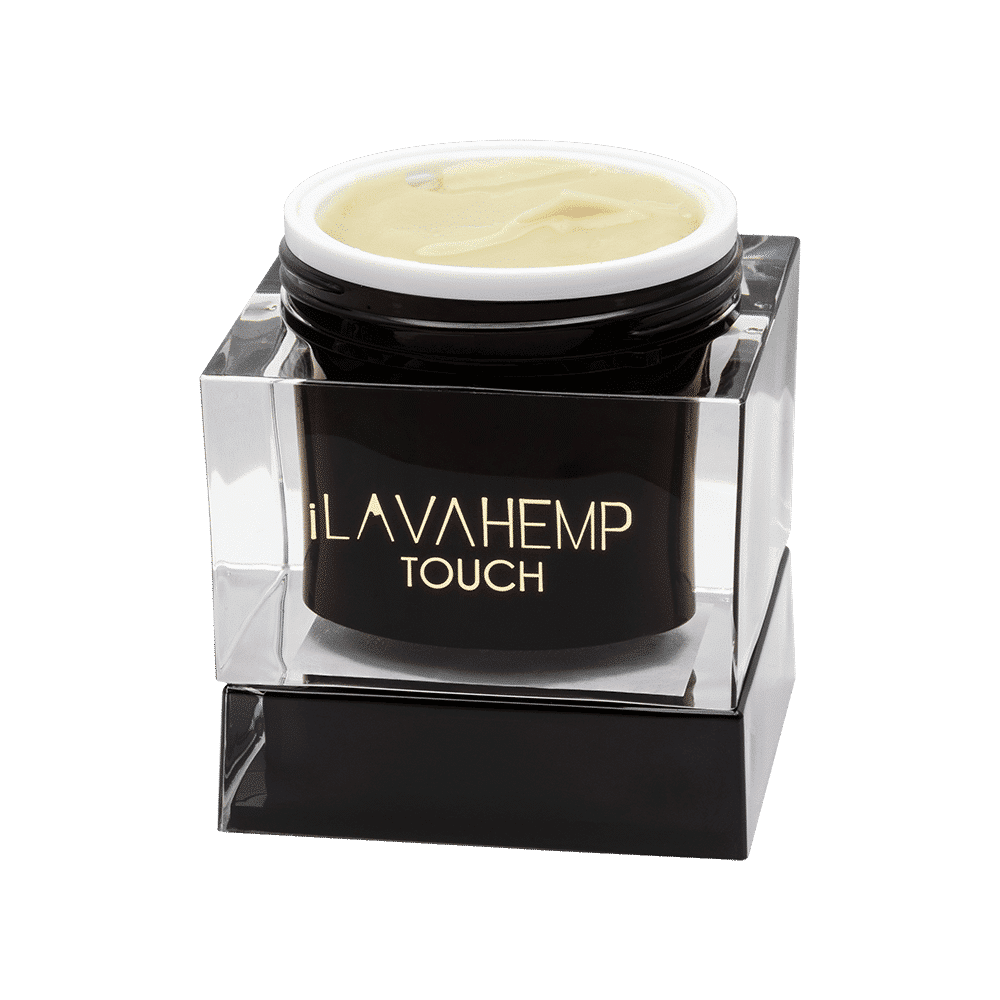 iLAVAHEMP
TOUCH is a purpose-formulated topical gel that combines the power of full spectrum hemp extract with our evidence-based essential oil blend.
We created the TOUCH gel using a formula which is rich in phytocompounds and essential oils so that our product delivers a level of efficacy consistently and with impactful results.  
TOUCH gel is rapidly absorbed into the skin so it can provide a soothing and tingling effect.
This unique  sensation combined with an aromatic experience makes TOUCH an innovative approach to joint & muscle support. ‡
Our research and development efforts were directed at creating a fast acting product that incorporates all natural ingredients with proven therapeutic benefits.
In addition to exotic essential oils like Helichrysum Italicum from the French island of Corsica and Blue Tansy from Morocco, TOUCH combines several rare & therapeutic essential oils with 550 milligrams of phyto-rich extract from licensed American hemp producers.
---
---
AMERICAN HEMP OIL + GLOBAL RARE & EXOTIC ESSENTIAL OILS
We source our hemp oil from licensed processors in the United States who are compliant with the U.S. 2018 Farm Bill and meet our QA standards for safety and phyto-cannabinoid potency.
The 11 essential oils used in TOUCH are directly sourced by us from Australia, Morocco, Europe, and here in the United States.
---
‡ Representations regarding the efficacy and safety of this product have not been evaluated by the Food and Drug Administration. These products are not intended to diagnose, prevent, treat, or cure any disease. Consult your physician prior to use if you are pregnant, nursing or using other medications.
The balance of active ingredients and dilution ratios in the Touch essential oil blend were formulated by a clinical aromatherapist experienced in botanical therapy product development with an emphasis on patient safety.
---
The TOUCH essential oils combined with our hemp-based compound mimic the entourage effect using some of the most significant & efficacious ingredients found in traditional therapies.
CORSICAN HELICHRYSUM
Helichrysum Corsica is sometimes used by aromatherapists to help recover hearing loss caused by inflammation, infection, or nerve damage.
When dried, the brightly colored, daisy-like flowers retain their color and shape; – hence the name "Everlasting" or "Immortelle".
There are over 600 species in the Helichrysum genus occurring in temperate regions throughout the world. The genus includes annuals, herbaceous perennials and shrubs.
The Corsican 'Fine' used in TOUCH is a pinnacle of perfect Helichrysum with a heavenly aroma.
MANGO GINGER
For centuries, the roots of the Mango Ginger spice have been used in tea and other concoctions as herbal remedies throughout East Asia.
While a member of the ginger genus also referred to as the Zingiberaceae genus, Mango Ginger is actually part of the turmeric species and is known as Curcuma amada.
BLUE TANSY
The deep blue color of this essential oil is due to its chamazulene content, a highly potent compound modified from matracin that turns blue during the distillation process.
Genuine Blue Tansy oil is steam distilled in Morocco using organic flowers and leaves. Blue Tansy consists of several botanical components including terpenes such as chamazulene, sabinine, camphor, beta-myrcene, and beta-pinene.
FRANKINCENSE
Frankincense oil is sourced from the resin of the Boswellia carterii, Boswellia ferreana or Boswellia serrata trees which are commonly grown in Somalia and regions of Pakistan.
This tree of the genus Boswellia is different from many others in that it can grow with very little soil in dry and desolate conditions.
The word frankincense comes from the term "franc encens," which means quality incense in old French. It was burned by the Egyptians and is used in many religious ceremonies.
BLUE CYPRESS
Native to Australia, the wood from the Callitris intratropica tree commonly known as Blue Cypress has been used medicinally for generations by the aboriginal peoples of Australia.
The complex aroma embodying balsamic, woody, and smoky scents was known to support a wide variety of issues, ranging from emotional needs to physical pain.
Within chakra work, Blue Cypress Oil may be helpful for use with the Sacral and Solar Plexus chakras.